View the collection of winning images from the 60th World Press Photo Contest. They were selected from 80,408 images made by 5,034 photographers from 125 different countries.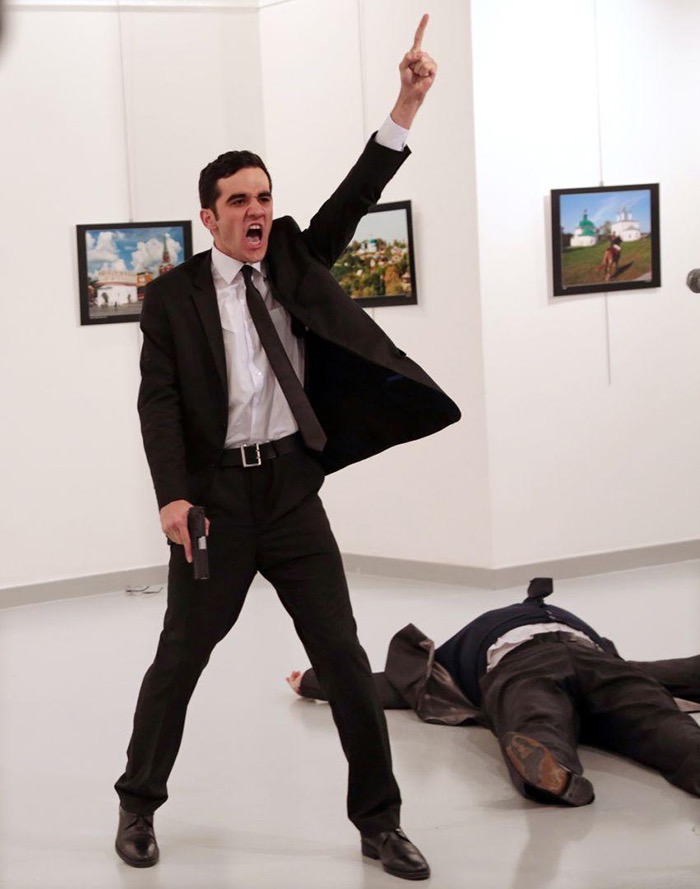 Mevlüt Mert Altıntaş shouts after shooting Andrey Karlov, the Russian ambassador to Turkey, at an art gallery in Ankara, Turkey.
Mevlüt Mert Altıntaş, a 22-year-old off-duty police officer, assassinated the Russian ambassador to Turkey, Andrey Karlov, at an art exhibition in Ankara, Turkey, on 19 December 2016. He wounded three other people before being killed by officers in a shootout.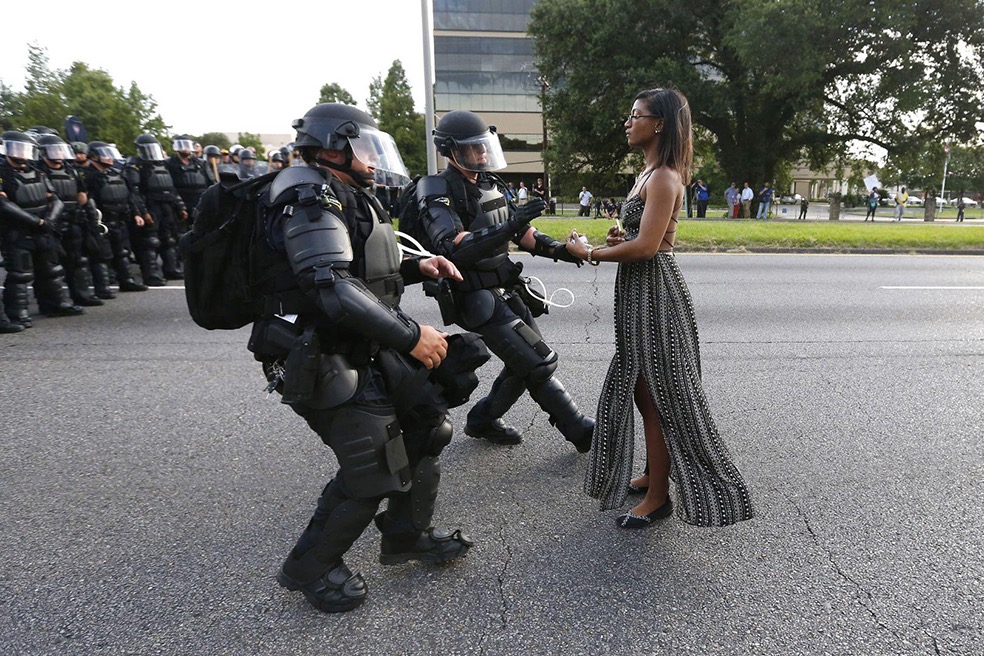 Lone activist Ieshia Evans stands her ground while offering her hands for arrest as she is charged by riot police during a protest against police brutality outside the Baton Rouge Police Department in Louisiana, USA.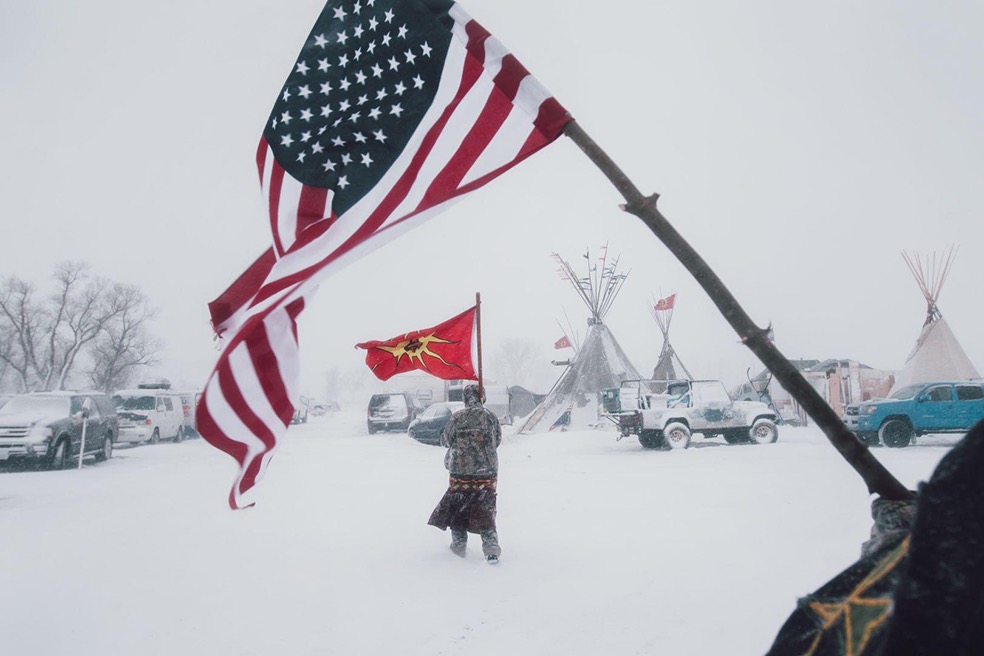 Veterans carry an American and a Mohawk Warrior Society flag through the storm. The Mohawk flag came to prominence during the 1990 Canadian Oka Crisis, when the military confronted indigenous people in a major armed conflict for the first time in modern history.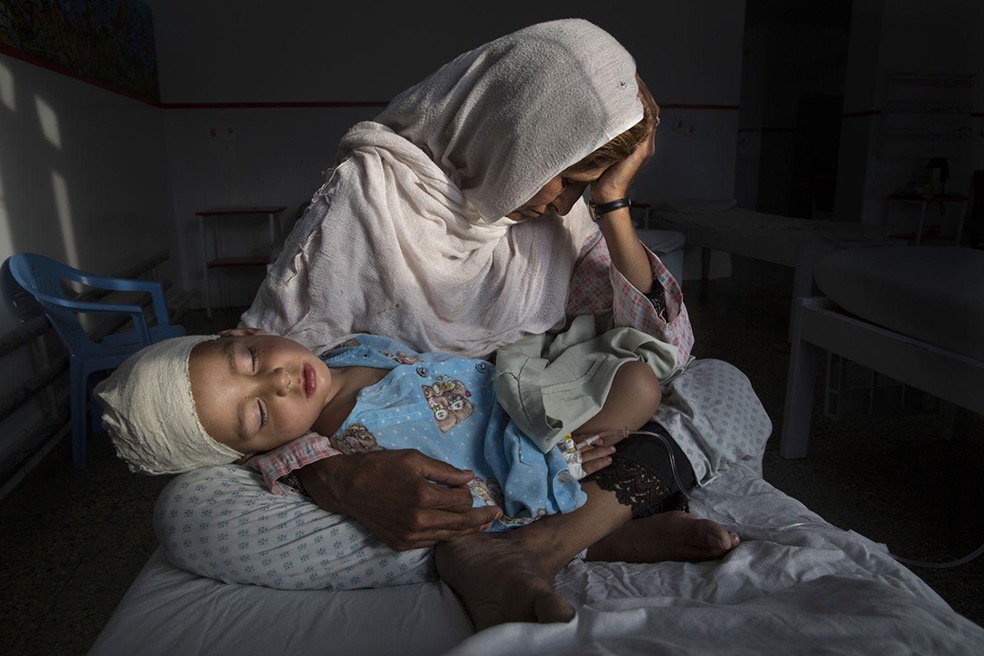 At the hospital, Najiba holds her two-year-old nephew Shabir who was injured from a bomb blast in Kabul.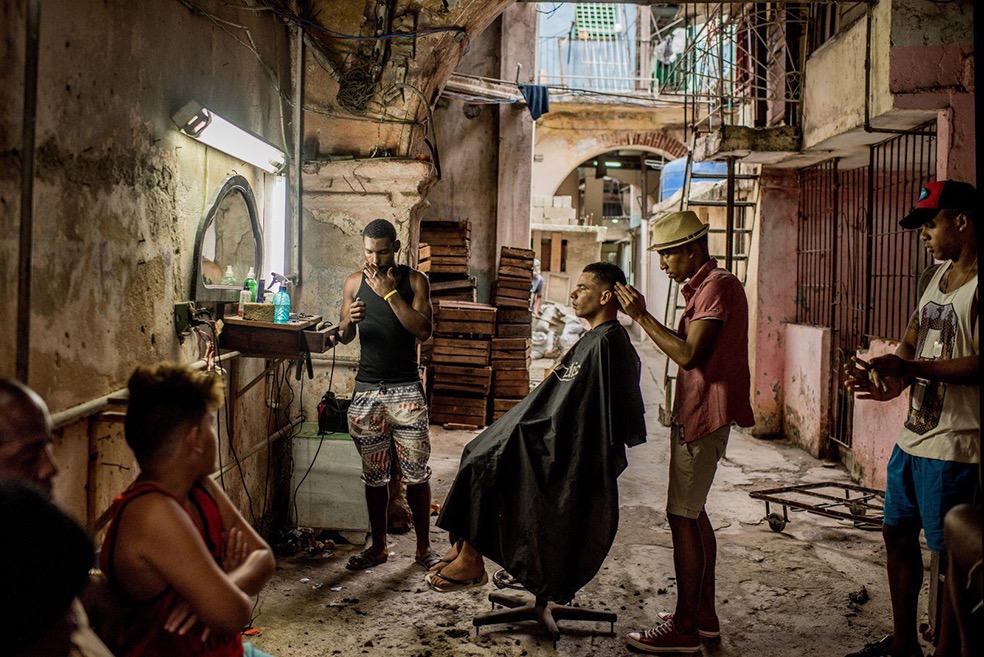 A weathered barber shop in Old Havana, Cuba.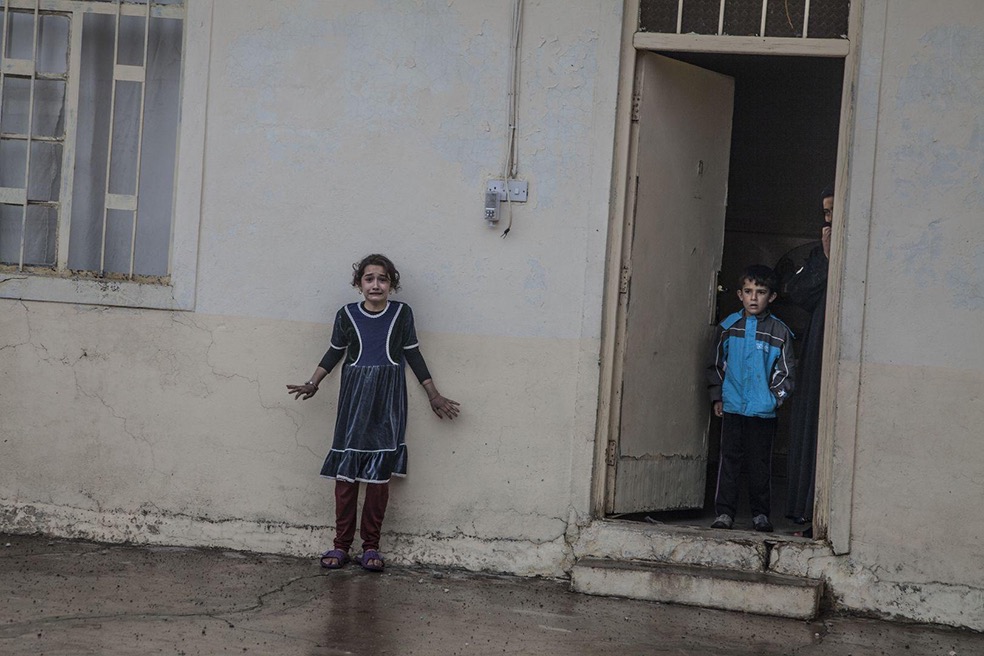 The Iraqi Special Operations Forces search houses of Gogjali, an eastern district of Mosul, looking for Daesh members, equipment, and evidence.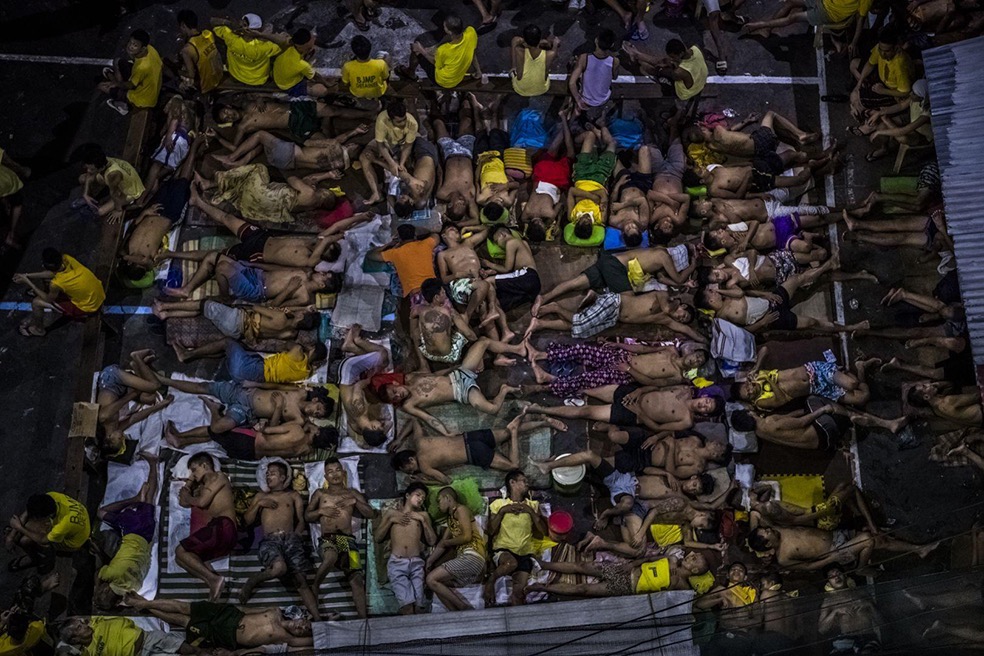 Inmates sleep on a basketball court in an overcrowded prison where they take turns resting on any available spaces at Quezon City Jail, one of the country's most congested jails in Quezon City, Philippines.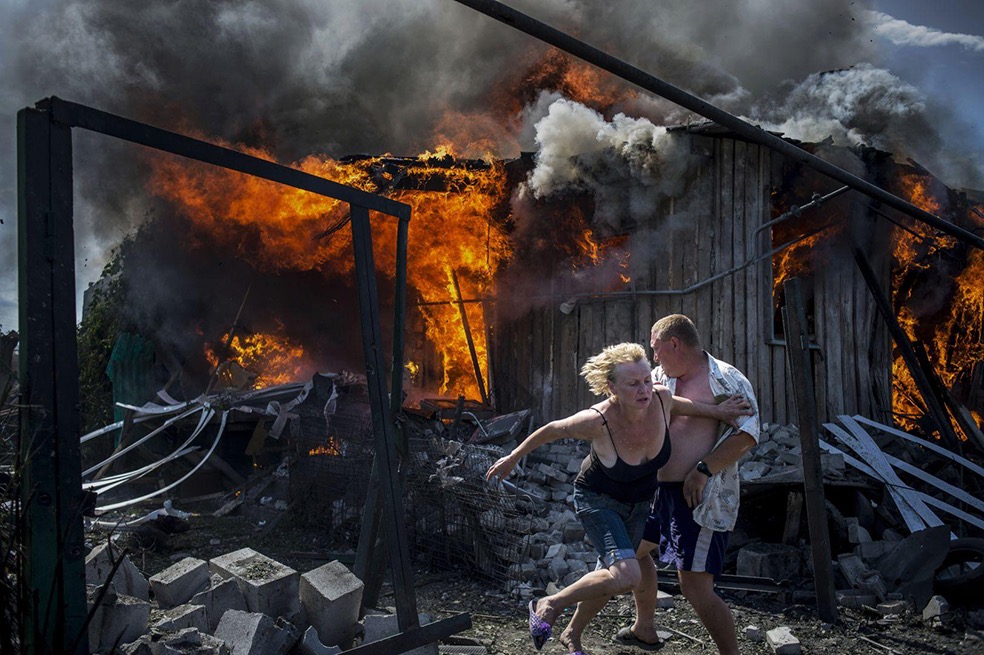 Civilians escape from a fire at a house destroyed by an air attack in the Luhanskaya village.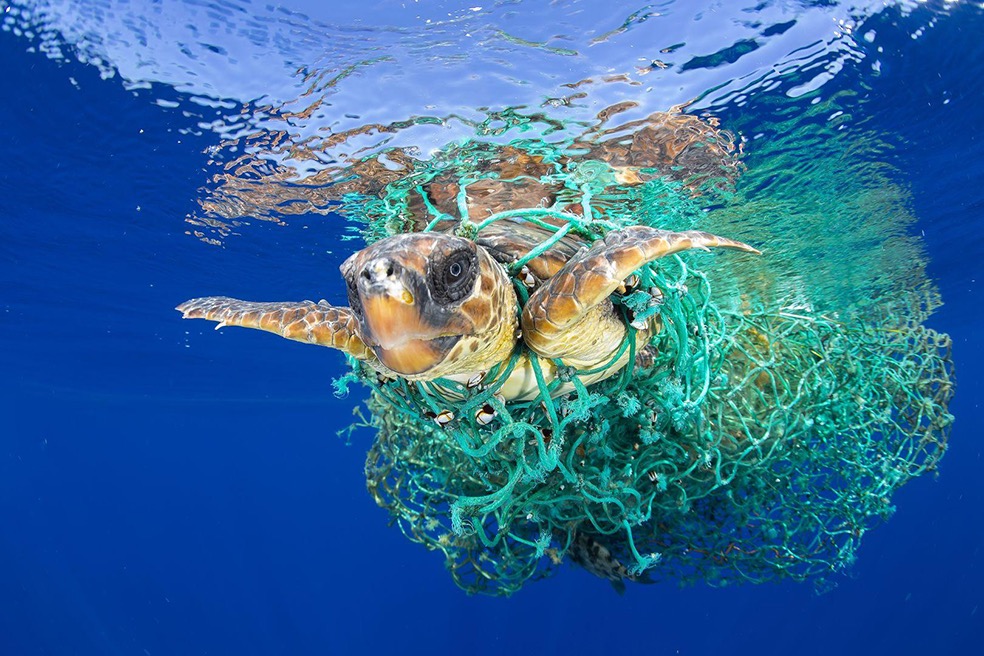 A sea turtle entangled in a fishing net swims off the coast of Tenerife, Canary Islands, Spain.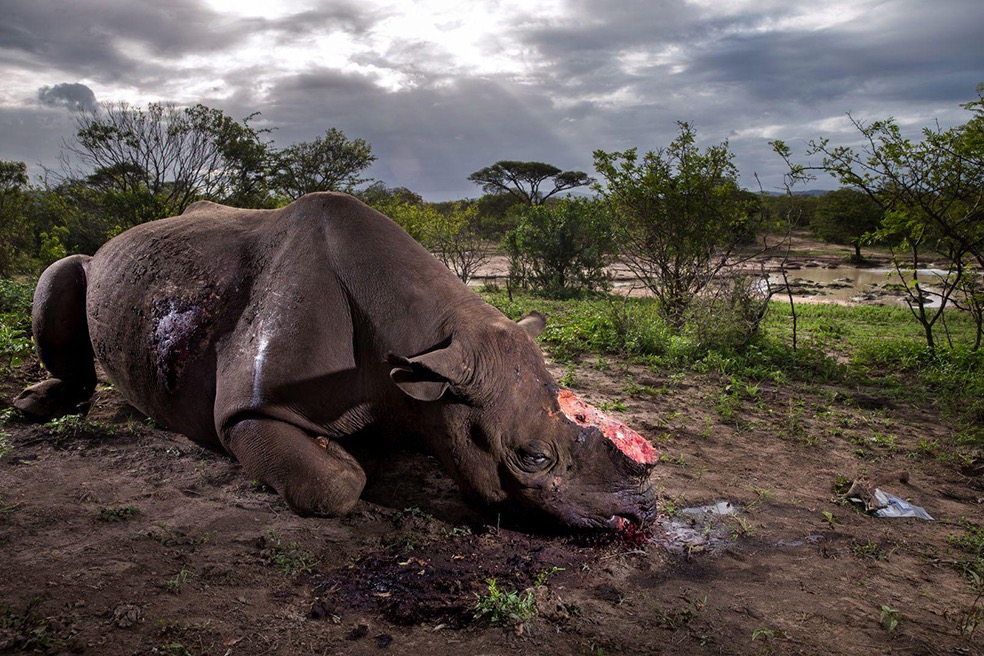 A black rhino bull is seen dead, poached for its horns less than 8 hours earlier at Hluhluwe Umfolozi Game Reserve, South Africa. It is suspected that the killers came from a local community approximately 5 kilometers away, entering the park illegally, shooting the rhino at a water hole with a high-powered, silenced hunting rifle. An autopsy and postmortem carried out by members of the KZN Ezemvelo ranger team later revealed that the large caliber bullet went straight through this rhino, causing massive tissue damage. It was noted that he did not die immediately, but ran a short distance, fell to his knees and a coup de grâce shot was administered to the head from close range.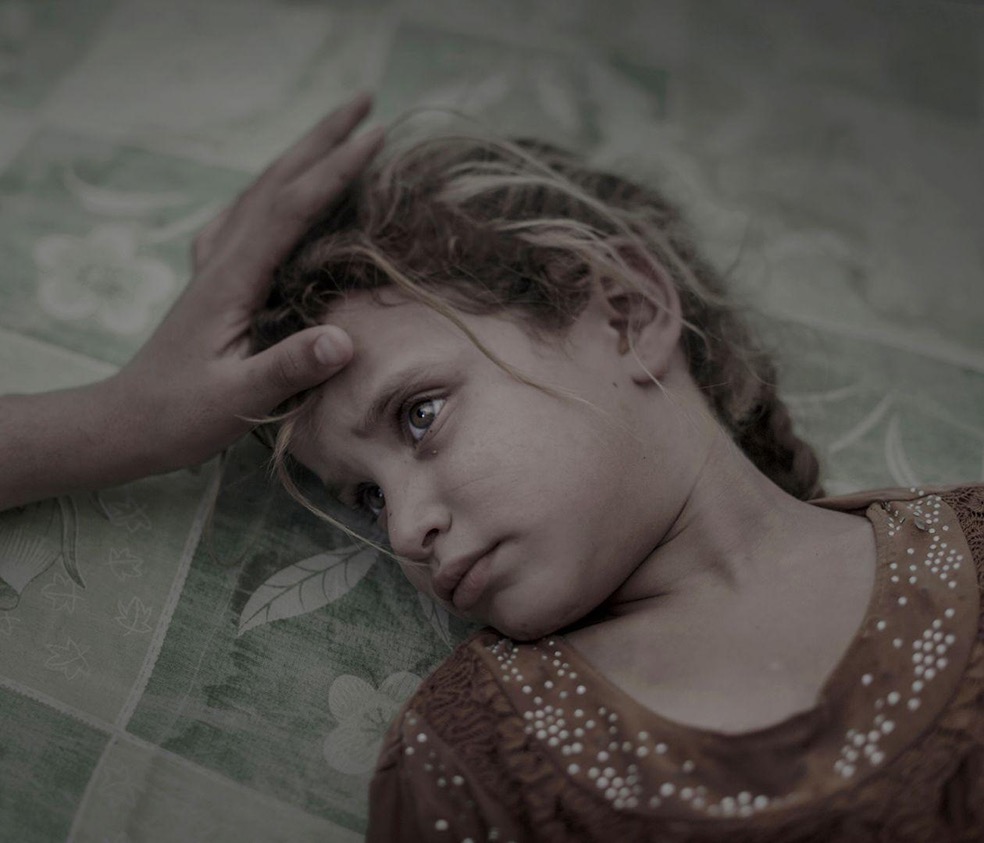 Five-year-old Maha and her family fled from the village Hawija outside Mosul, Iraq, seven days ago. The fear of so-called Islamic State and the lack of food forced them to leave their home, her mother says. Now Maha lays on a dirty mattress in the overcrowded transit center in Debaga's refugee camp. "I do not dream and I'm not afraid of anything anymore," Maha says quietly while her mother's hand strokes her hair.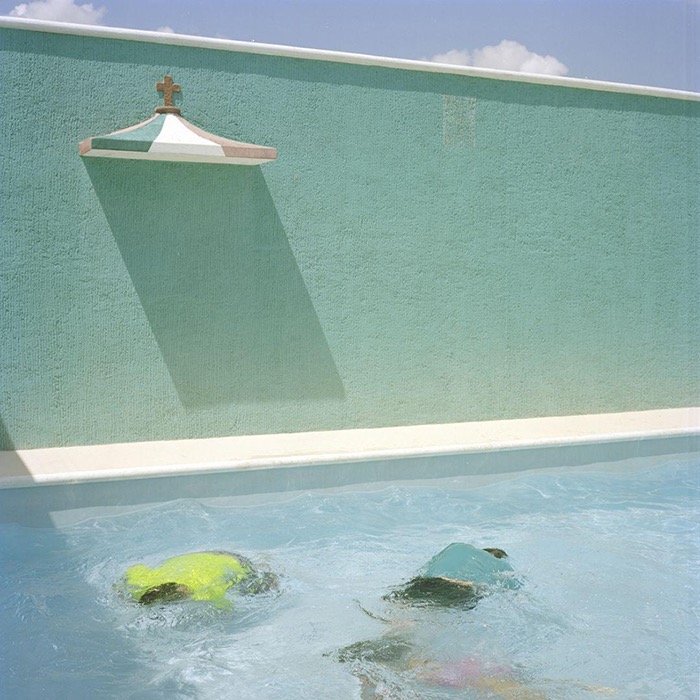 Young Korean-Mayan descendants during the 90th birthday party of Joaquin Poot Lee, a second generation Korean-Mayan. Since most Korean migrants were men, they inevitably married local Mayan women. As a consequence, most descendants of Koreans in Mexico are Korean-Mayans.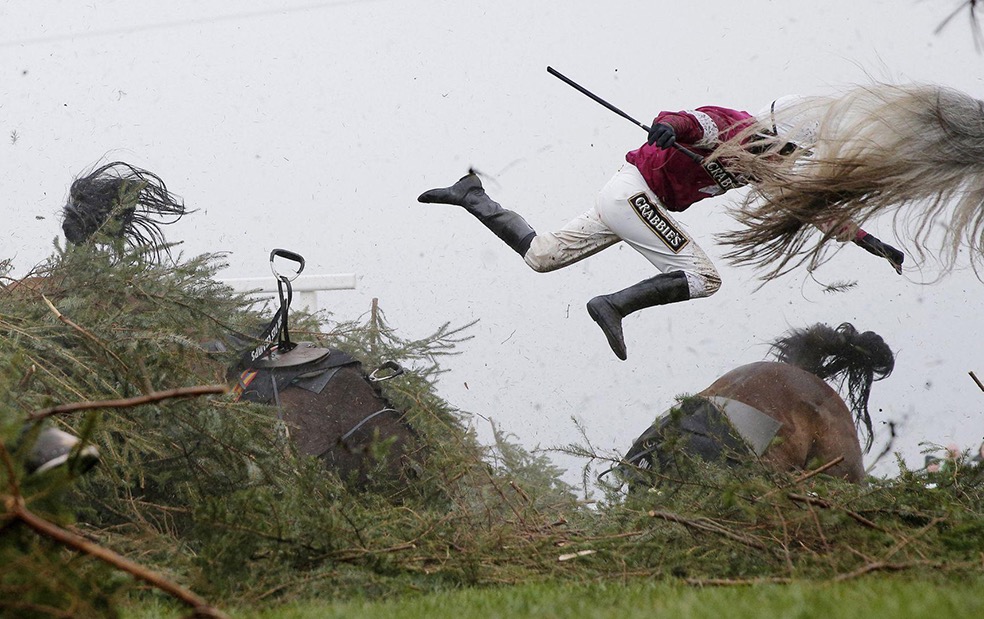 Jockey Nina Carberry flies off her horse, Sir Des Champs, as they fall at The Chair fence during the Grand National steeplechase, during day three of the Grand National Meeting at Aintree Racecourse on 9 April 2016 in Liverpool, England.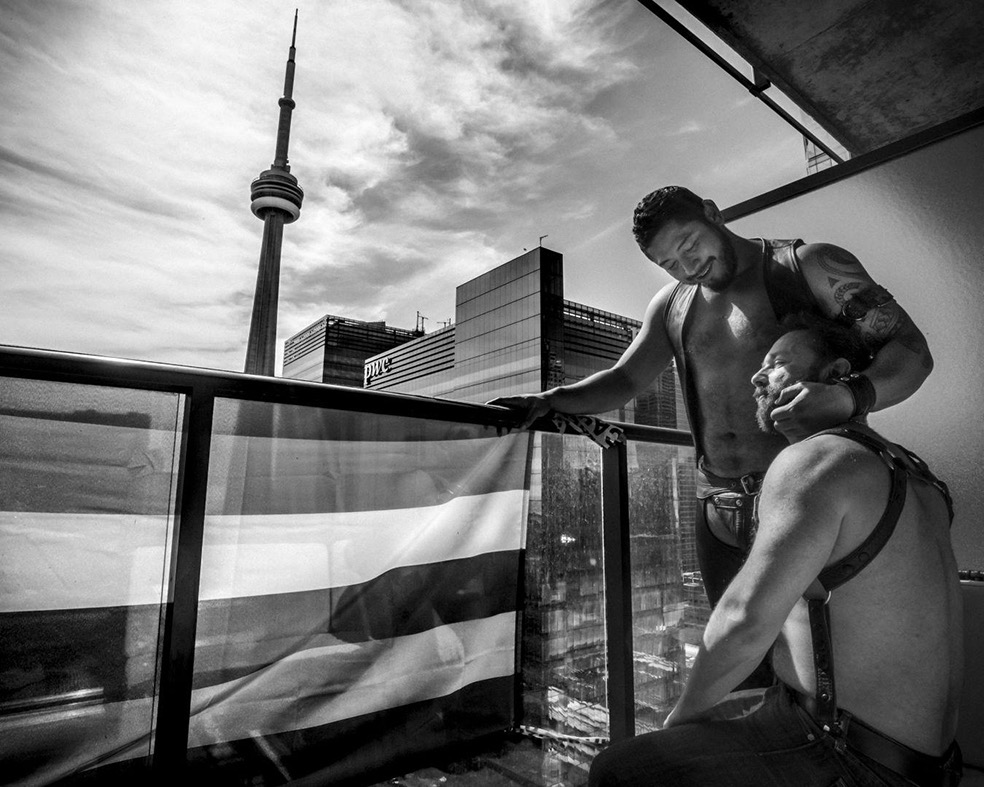 Muddy York Rugby Football Club's player Danny Perez (standing) and his partner Jonathan Buckley cuddle on the balcony of their condominium in Toronto, Ontario. Perez is one of Muddy York Rfc's best players. He marched, along with his teammates, in the pride parade the day before. The past month was an epic one for Muddy York Rfc. The club, for the first time ever, participated in the Bingham Cup with a full side. Muddy York Rfc is Toronto's only inclusive rugby side. The team primarily competes against "straight" sides in the Toronto Rugby Union and is affiliated with the International Gay Rugby Board.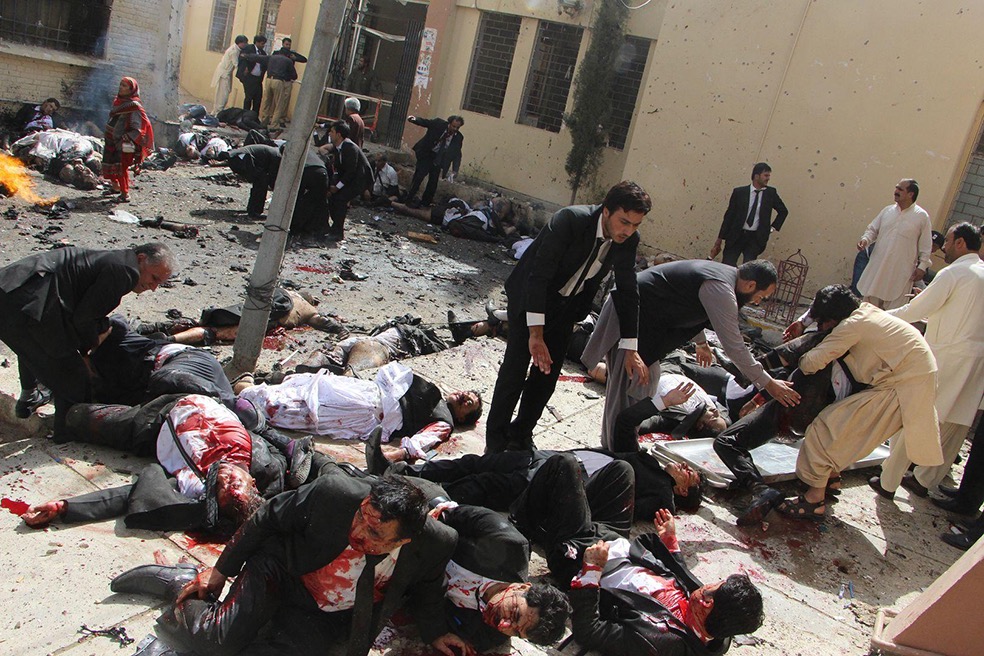 Lawyers help their injured colleagues after a bomb explosion in Quetta, Pakistan.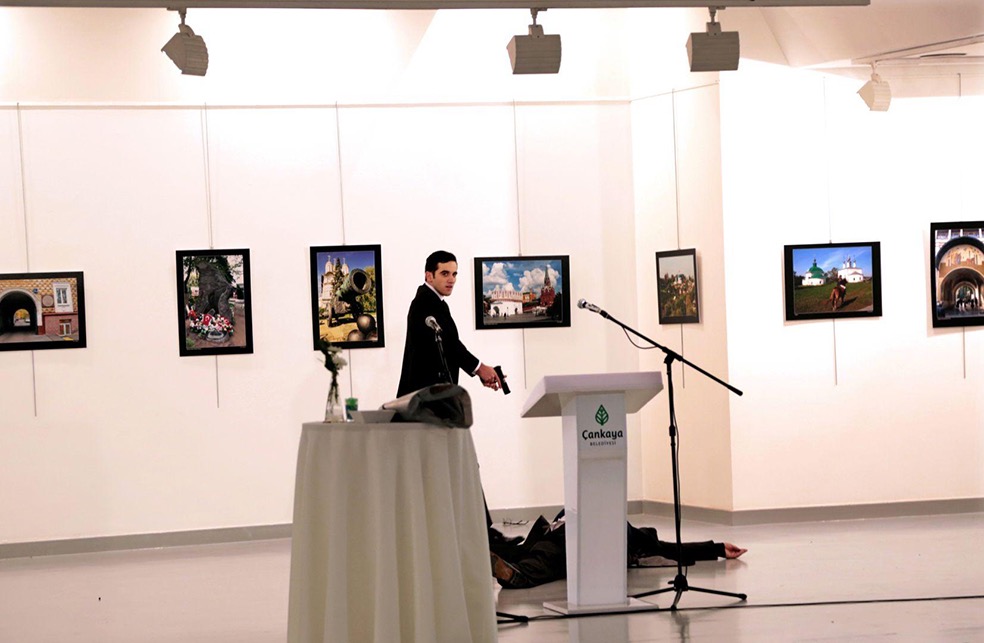 Mevlüt Mert Altıntaş stands over Andrey Karlov, the Russian ambassador to Turkey, after shooting him at an art gallery in Ankara, Turkey.
2017 Winners' Gallery: worldpressphoto.org/collection/photo/2017
Comments
comments